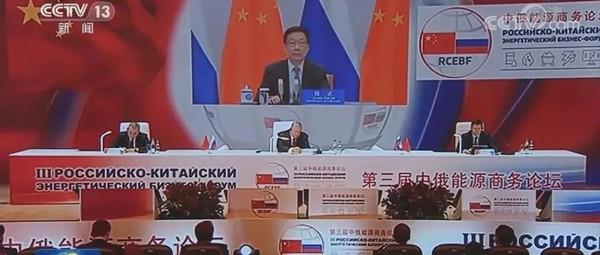 The third China-Russia Energy Business Forum was held on Nov 29 both online and onsite in Beijing and Moscow. Chinese President Xi Jinping and Russian President Vladimir Putin respectively sent congratulatory letters to the forum. Chinese Vice Premier Han Zheng attended the forum, during which he read President Xi's letter and delivered a speech.
China National Nuclear Corporation (CNNC) Chairman Yu Jianfeng attended the opening ceremony and shared thoughts on joining hands for mutual benefit and opening a new chapter of China-Russia nuclear energy cooperation in the new era.
Energy cooperation is an important part of the China-Russia comprehensive strategic partnership of coordination for a new era. It has always been a major field in the two countries' practical cooperation and nuclear energy is a prioritized strategic direction of bilateral energy cooperation.
On May 19, President Xi and President Putin witnessed the ground-breaking ceremony of a bilateral nuclear energy cooperation project, the Tianwan nuclear power plant and Xudapu nuclear power plant, via video link, reflecting the deep hopes of the two heads of state for nuclear energy cooperation between the two countries.
CNNC, as a main player in nuclear energy cooperation with Russia, will make good use of this cooperation platform, and work together with the two countries' energy and financial companies such as ROSATOM to strengthen exchanges and collaboration in the sustainable development of nuclear energy and the shift to low carbon energy, as well as green and circular economy, and foster closer strategic partnerships to make more nuclear contributions to the world.
The China-Russia Energy Business Forum was initiated by President Xi and President Putin. It is an open bilateral platform for exchanges and cooperation between the two countries' nuclear industries and relevant firms, financial institutions, associations, think tanks and scientific institutes. CNNC is one of five members of the organizing committee on the Chinese side.
Also on Nov 29, the first set of Russia-supplied large-scale equipment (core catcher supporting equipment) for unit 3 of the Xudapu nuclear power plant arrived at Huludao Port in Northeast China's Liaoning province. The core catcher is a key component of the VVER-1200 third generation design, which plays an important role in improving the redundant safety of nuclear power plants.