From October 28 to November 15, the IAEA School of Radiation Emergency Management & the first international training of the IAEA Capacity Building Centre for Emergency Preparedness and Response (IAEA CBC in China) was unveiled at China Institute for Radiation Protection (CIRP). Head of IAEA Incident and Emergency Centre Elena Buglova and Director General Yao Bin of the Department of Nuclear Emergency & Safety Regulation, China Atomic Energy Authority (CAEA) attended the opening ceremony, and officially inaugurated the IAEA China CBC together with CIRP President Liu Qun and Assistant President Chen Hainan of the General Hospital of Nuclear Industry.
Rich in content and diverse in form, the training set an assortment of courses, such as expert instruction, case study, desktop maneuver, technical excursion, experimental operation, VR experience, and field exercise. As the initiator of the CBC in China, CIRP designated five specialists to lecture on the IAEA nuclear emergency response standard GSR Part 7 systematically according to good practices in China and its own professional strengths, and invited experts from China National Nuclear Power Co., Ltd. and the General Hospital of Nuclear Industry to give instruction in the courses of public communication and clinical treatment techniques for nuclear emergency response, for the purpose of enabling IAEA member countries in the attendance to develop sustainable nuclear and radiological emergency preparedness and response plans according to the standard.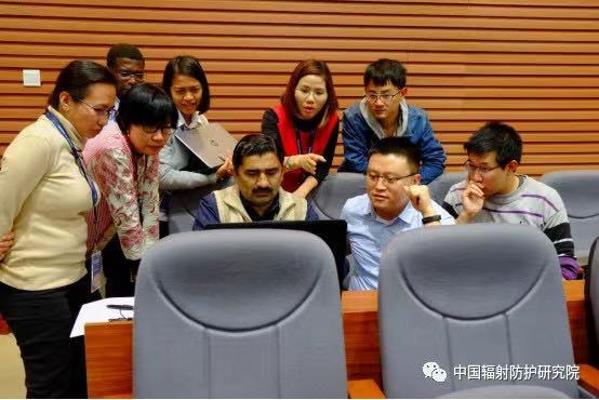 A wide range of radiation monitoring instruments and complete nuclear emergency installations developed and manufactured by CIRP were displayed, which became a highlight of the training and was acclaimed by participating experts and trainees.
Mr. Liu Qun said in the closing ceremony that CIRP will further improve the organizational construction of China CBC, spur the instructors to continuously enhance and update their knowledge reserve, further increase their teaching level, and make continuous efforts to better fulfill the obligations and missions of China CBC.IAEA's authorizing CIRP to build the 'IAEA China CBC' along with the General Hospital of Nuclear Industry is a historic breakthrough of CIRP in the construction of international cooperation and exchange platforms. It is the first training after the establishment of China CBC, and has attracted a total of 28 students from 14 countries. The students have all passed training assessment and received the certificate of completion jointly issued by IAEA and China CBC.