CIRP is able to undertake the cleaning and maintenance of the radiation controlled area, radioactive contamination removal, site layout, shield setup, tools and instruments decontamination, and collection of radioactive wastes as well as collection and transportation of basic protective equipment in the controlled area, clothing laundry and cleaning.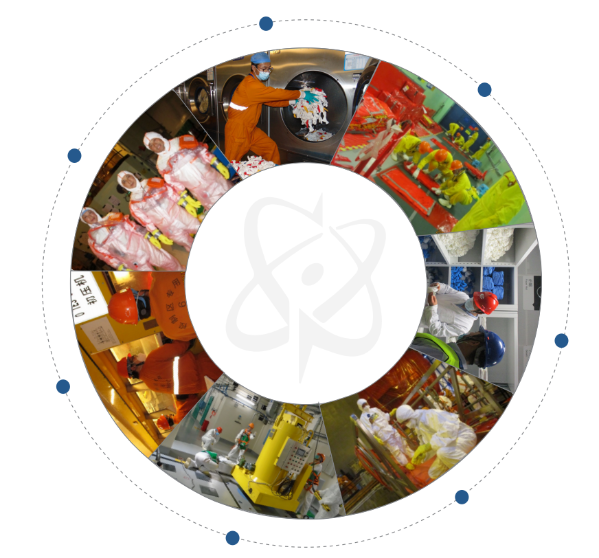 NUCLEAR FUEL OPERATION RELATED SERVICES
Nuclear Fuel Operations
CIRP is capable of undertaking the refueling support project for the demonstration fast reactor, the nuclear fuel operation and equipment maintenance project of nuclear power plants, and nuclear fuel related auxiliary support services. Experienced in professional VVER reactor and sodium-cooled fast reactor nuclear fuel operations, CIRP is competent to tasks such as core shuffling, control rod placement. In addition, many team members have obtained FH2 level authorization for fuel operation and have garnered accolades from customers.

Dry Storage of Spent Fuel
CIRP has achieved the building of whole-process service capacity in dry storage process of spent fuel with experience in equipment reception, commissioning, assembly, drills, program optimization, skill training and technological upgrading. In 2019, the first domestic project of dry storage of spent fuel was completed. At present, the dry storage of spent fuel has been completed for 7 times which are highly recognized by the customers. Preparations are being made for dry storage of spent fuel in Tianwan Nuclear Power Plant, and the technical support of dry storage of spent fuel is being provided for the Qinshan Nuclear Power Plant. CIRP is the only one in China with technical capability of dry storage of spent fuel supported with actual operating performances.